Check out different podcast episodes where Tennis SuperMovers coaches were guests on. All episodes are free and available to download.
Athlete Development Show – with Simon Brundish
'Move like a SuperHero'
ADS 059: Simon Brundish – Move Like a Superhero My guest on the show today is Simon Brundish (@SimonBrundish). Simon is the founder of StrengthLab Superheroes, an interactive curriculum for fundamental movement skill development that reaches over 50K primary aged kids across the world. Simon's background in strength and conditioning, working mainly with football.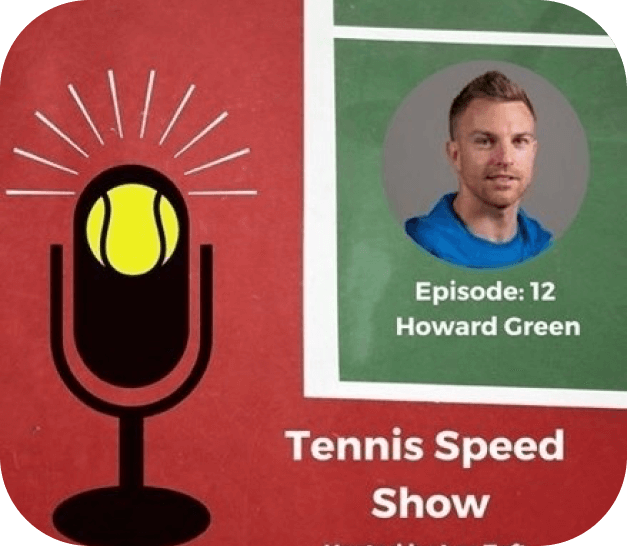 Tennis Speed Show – with Howard Green
'How to make tennis players SuperMovers'
Check out this episode with Coach Howard Green. He is creating such wonderful content for coaches, players, and parents to learn from. This show is packed with great advice as Howard talked about the importance of strength, speed, core development, breathing, and discipline. This podcast is worth several listens!
Athletic Evolution Podcast – with Howard Green
'Lessons from the Royal Marines'
In this episode Howard discusses
How his background in the high performance environment of the Royal Marines has shaped him as a coach.
His time "in the box" with Ana Ivanovic and Naomi Broady on the World Tour.
The importance of establishing ownership and life skills in young athletes.
Athletic Evolution Podcast – with Simon Brundish
'Physical Literacy for SuperHeroes'
In this episode Simon Brundish, Founder of StrengthLab and creator Superheroes discusses:
His unique purpose for coaching kids. The problems with modern day PE curriculum.
The challenges with integrating physical literacy curriculum into the school setting.
Beyond the Swing Podcast – with Howard Green
'Coordination, Fundamental Movement Skills + Shapes and Creating an Elite Tennis Culture'
What are the fundamental movements young players need to lay the foundation for future athletic + sporting success?
In this episode, Howard Green joins the show to tackle all these topics and more. He works primarily with young tennis players so if you work with juniors – or you're a tennis parent – this episode is right up your alley.
My Tennis Journey Podcast- with Howard Green
'The Tennis SuperMovers Mission to Get Kids Active'
You've only got to read this quote from Howard Green, who is one of the UK's leading Strength and Conditioning (S&C) coaches to understand the Tennis SuperMovers Mission to get kids active!
The Adam Blicher Show: Dissecting High Performance In Tennis Podcast – with Howard Green
'Stand out, but don't burn out'
In this episode you are going to listen to Howard Green. Howard spent six years in the Royal Marines Commandos. You'll get to know:
Non-ego-confidence
Setting up physical fundamentals for tennis players
What tennis players can learn from the Marines
The Service Box: Entry 59 – Howard Green
'Marine Commando to Supermovers'
This journal entry brings you former Marine Commando, Howard Green.
Howard left the marines and ventured into the world of strength and conditioning. Shortly after, he was attracted by the chaotic nature of tennis.
Over the last 11 years he has built a brilliant reputation in the tennis world and now leads the fitness programme at Bolton Arena, England.
Stay in the loop with our tennis fitness
class program by joining our newsletter!