How military principles can benefit the tennis athlete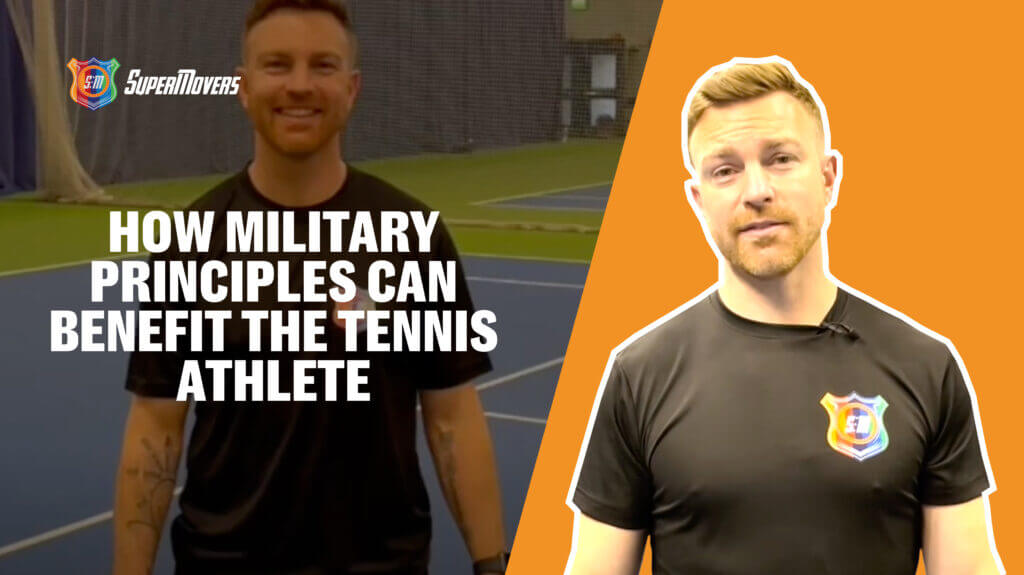 How military principles can benefit the tennis athlete
Podcast Blog – April 2021
I was recently interviewed for the popular podcast 'The Adam Blicher Show – Dissecting High Performance in Tennis'. It was great to asked as he has hosted some big names in tennis previously, such as Carl Maes, Magnus Norman and Sarah Stone, as well as several personal friends and colleagues including Jonny Fraser, Jaime Fernandez and Dom King.
You can listen to the podcast in full via the links below, but I wanted to share some additional information around my experiences serving in the Royal Marine Commandos, and how that has shaped the SuperMovers At Home programme and how mastering the integrated tennis shapes can successfully impact your tennis performance.
Concept of Rehearsal
I have applied many things I learned in my time in the Royal Marines to my career as a tennis-specific S&C coach, from maintaining high professional standards, to being adaptable when planning and the concept of rehearsal.
Players can utilise this concept of rehearsal and apply it to their game play and match planning easily to enhance their mindset and results. 
From a military standpoint, your own weapon handling skills are important, regardless of the situation, conditions or weather, through to how you operate with the person next to you, how you operate as a section or a troop – all these things would be rehearsed in varying levels of intensity and situation. I believe this can be brought into tennis because I'd love to be able to ask at all times – 'In today's session, how close from a tactical standpoint, physical standpoint, a mental standpoint, did the player rehearse and practice what they'll need in matchplay?'.
It starts with the engagement of the player themselves. Making them aware of the effort that they play for this next two-hour session can have a real big impact on their next match. If they're not fully prepared, then that's going to show up in the most stressful situations. Be it a breakpoint, tiebreaker, set point or match point.
Integrated Tennis Shapes
Another key part of the podcast discussion was my goals as a a tennis strength & conditioning coach and what underpins my work on Tennis Supermovers.
My main driver as a physical coach is to make the player as efficient as possible. By that, I mean to use the lowest amount of energy even at the highest impact or highest speed actions. The more efficient we can make tennis players, the less energy they're going to use and therefore the less impact on the body.
We're trying to really create an efficient athlete, taking the least amount of toll on the body as possible and reducing injury, because we know tennis is becoming faster, quicker and more explosive. I see it becoming more and more like basketball; bigger players, stronger players, more athletic players.
In pursuit of this tennis athlete, Tennis SuperMovers programme is developed around the key areas of Strength, Movement, Agility, Stability and Honing coordination. Through focusing programmes around these pillars of tennis fitness, we can create better athletes who are stronger and less prone to injury and who improve their matchplay by rehearsing the integrated tennis shapes. These are the most common shapes which underpin tennis strokes and on-court movement.
To find out more about the SuperMovers programme, go to tennissupermovers.com, or if you have any questions after listening, please email me at howard@tennissupermovers.com. 
Listen Now: 
If you are on an Apple Device, click this link: http://bit.ly/howardgreen which will lead you directly to the episode in the "Podcast App". 
On Android you can access the episode via Google Podcast here: https://podcasts.google.com/search/adam%20Blicher%20howard
Via your web browser, the address is: https://www.adamblicher.com/podcast/green/
Next, Learn about Howard Green's Journey
Next,